Crystal Palace v Leicester: Premier League – live! | Football
15:33
74 mins: So that's two substitutions for Palace, and two goals. Who else is on that bench? Christian Benteke winner anyone?
15:32
GOAL! Crystal Palace 2-2 Leicester (Schlupp, 72 mins)
Schlupp scores with his first touch! The ball is crossed in from the left and Schlupp nearly scores from that, but a defender beats him to it. It's sent back in, pings about a bit and finally bounces up to Schlupp, who heads low past Schmeichel from eight yards!
Updated

15:31
71 mins: And Palace give Jeff Schlupp a chance to remind his former employers of his qualities, with Gallagher going off.
15:30
71 mins: Leicester bring James Maddison on for the goalscoring birthday boy Kelechi Iheanacho.
15:29
69 mins: Palace concede a associate of fairly inconsequential free kicks. Neither appeared to be controversial decisions, but the home crowd howls anyway, and they are now speculating as to what the referee, Anthony Taylor, gets up to when enjoying his own company.
15:26
66 mins: Edouard spins onto Milivojevic's pass, but the ball is stolen off him before he can orient himself in his new goal-facing direction. The home fans want a penalty as the striker goes down, but that is a genuine stumble.
15:24
64 mins: Andersen beats Soyuncu to a header in the Palace penalty area and clears the ball, but he did seem to completely steamroller his opponent to get there. The referee doesn't mind.
15:21
GOAL! Crystal Palace 1-2 Leicester (Olise, 63 mins)
The substitute gets Palace back in it! It's a low cross from Mitchell on the right and Olise hits it first-time straight into Tielemans but fractures home the rebound!
15:18
59 mins: It is now, once again, gloriously sunny at Selhurst Park. Leicester make their first change, taking off Choudhury and bringing on Boubakary Soumare.
15:16
57 mins: An excellent start to the half from Palace, but they just can't make the pressure pay.
15:13
52 mins: Edouard hits the bar! He shimmies his way into space 12 yards from goal but goes for strength over accuracyn and misses the target with his shot, and then Ayew gets a go but, not for the first time today, he cuts infield and ends up running into a posse of defenders and losing the ball.
15:11
51 mins: Zaha shoots high from 25 yards, an effort so wild it made him fall over in the follow-by.
15:09
49 mins: Barnes gets the ball in space – a lovely outside-of-the-left-foot pass from Iheanacho – and takes on Ward before blasting a shot wide of the near post.
15:07
48 mins: Ward gets forward and works his way into the area, whereupon he leaves the ball for Gallagher, who leaves the ball for him, and Leicester can break.
15:06
46 mins: Tielemans slides in to win the ball off McArthur in midfield, and for some reason is booked by the referee for doing so.
15:04
The players are back out, and they are the same players that went in.
15:03
So much for the autumnal sunshine, it's now bucketing down upon Selhurst Park, and Sky show us a steward sheltering by waving a small plastic seat over her head.
15:01
"Zaha's attitude is terrible so far," says Paul Rowe. "It's not awfully helpful to wave your arms around whenever a teammate makes a mistake, while not playing very well yourself." I disagree. Sure, he was in complete strop mode after that late Ayew cross, but I think generally his contribution has been good, and his work off the ball has been good. But he's a very physically demonstrative person, which method that in moments when he's grumpy everybody sees he's grumpy.
14:50
Half time: Crystal Palace 0-2 Leicester City
45+3 mins: And that's the last action of the half. Palace have been excellent overall but just haven't clicked in attack. Leicester have been poor overall but lethal in attack, and Palace have made a associate of defensive errors, one a complete-blown howler, and consequently the home side take a healthy rule into the break.
14:48
45+2 mins: Ayew has the ball on the right, and three Palace players run into the penalty area. Ayew crosses straight to Schmeichel. Three Palace players wave their arms around grumpily.
14:47
45+1 mins: There'll be two minutes of stoppage time, give or take.
14:46
43 mins: Leicester have had their moments, but there really haven't been many of them. Tielemans has just sent another pass into touch, and there have been plenty of those. Between them their strikers have had simply a associate of shooting chances, but they have finished them sweetly. Tight margins and all that.
14:43
40 mins: Crystal Palace's dominance was largely down to their pressing, to the absolute commitment of their players to their cause. But after Iheanacho's goal that commitment wavered, and things rather fell except there.
14:42
41 mins: Chance for Palace! Zaha's shot deflects off a defender to Gallagher, but he sidefoots over the bar from the edge of the area.
14:39
GOAL! Crystal Palace 0-2 Leicester (Vardy, 37 mins)
Leicester double their rule! Barnes is nicely released by Tielemans and passes to Vardy, the ball rolling close enough to Andersen for him to attempt to intercept and fall over in the time of action. With Andersen out of the way Vardy has time to control, set himself, and beat Guaita at the near post.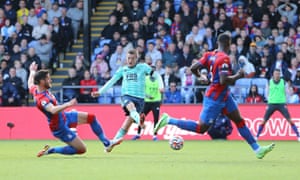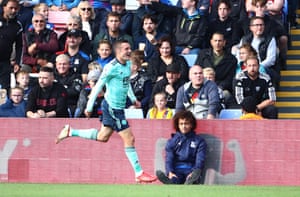 Updated

14:38
36 mins: Choudhury runs down the right before stopping at the byline, where he shields the ball from Mitchell but doesn't seem to know what to do with it. So ultimately McCarthur comes and takes it away.
14:34
33 mins: It it Iheanacho's 25th birthday today, and he's just had a gift.
14:33
GOAL! Crystal Palace 0-1 Leicester (Iheanacho, 31 mins)
And then Leicester take the rule! It is an absolutely calamitous goal for Palace to concede, Joachim Andersen taking possession in defence under no pressure, trying to turn past Iheanacho instead of playing an easy pass to his right and being dispossessed. Iheanacho runs on and slides past Guaita!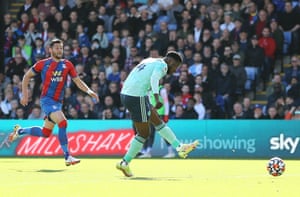 Updated

14:32
30 mins: Leicester just can't keep the ball in the confront of Palace's continued pressure, and it's starting to eat away their composure. After Ayew's booking, Lookman gets a lecture from the referee for kicking the ball away after conceding a free-kick.
14:30
29 mins: Bertrand is booked for hauling back Jordan Ayew on Leicester's left.
14:30
28 mins: A lovely run from Zaha, who repeatedly looked destined to lose the ball only to prod it away from whichever Leicester player came in to take it. He gets as far as the edge of the area before laying it off to McArthur, whereupon the move breaks down.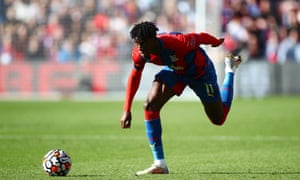 Updated

14:28
26 mins: Choudhury plays a pass wide to Castagne, who lays it off, and when it is moved back to Choudhury he plays it first-time to the same space that Castagne was in the last time he passed to him, but he is no longer there. Palace throw-in.
14:23
21 mins: The referee gives a free-kick for a ridiculous Castagne dive on the right side of Leicester's defence. On commentary Sky describe it as "a slip", which it was very clearly not. I don't understand why referees are so keen to give free-kicks to defenders, but such is life.
14:19
18 mins: Tyrick Mitchell is on the ground and holding his head, feeling the impact of a flailing Leicester arm.
14:17
16 mins: Lookman and Tielemans combine to find a way round the Palace press, and the Belgian celebrates by thumping a 40-yard pass straight into touch.
14:15
14 mins: At the other end Tielemans goes over Gallagher, but the referee isn't impressed and to be fair Tielemans doesn't really allurement.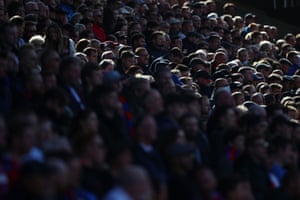 Updated

14:14
12 mins: Schmeichel makes two saves with his feet! First from Zaha, to the left of goal – a good stop this – and then from Gallagher, from the right of goal, who could probably have gone down when challenged by Tielemans but stayed on his feet only to end up taking a shot from an unhelpful angle.
14:10
8 mins: A good cross into the area for Leicester, but a group of players jumps for it, the ball hits more than one of them and then it drops to Guaita.
14:06
5 mins: Now Barnes finds space, but Ward blocks his shot. This is a highly encouraging opening for fans of disorganized, chance-heavy football.
14:05
3 mins: And a chance for Palace! A low cross from the right finds Edouard, whose effort hits Vestergaard, and then a associate of ricochets later the ball flies into Schmeichel's arms.
14:03
2 mins: Chance for Leicester! They win a free-kick on the right, which Tielemans sends into the area and Vardy heads wide (though it's helped on its way by a defender, so they'll have a corner).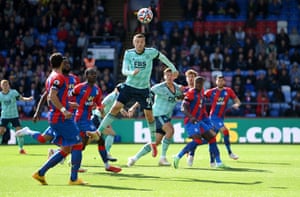 Updated

14:01
1 mins: In the first 20 seconds there are three passes, of which one finds its target.
14:01
Before kick-off, a moment's applause for Roger Hunt, the former England and Liverpool striker, who died this week.
13:57
Here are Brendan Rodgers' pre-match thoughts:



I think certainly in the last three games we've been much better, in terms of with the ball and creating opportunities. We've had a slow start, but we've seen much better moments. We just have to be more consistent.
And here are Patrick Vieira's:



I'm never happy, I always want more, but it's important for us to give some of the players a associate of games to get that confidence in addition. We've got players up front who are working hard and just need to be a bit more consistent.
In short, and to summarise, both teams just need to be more consistent.
13:38
Selhurst Park is lying in autumnal sunshine this afternoon and generally looking at its best.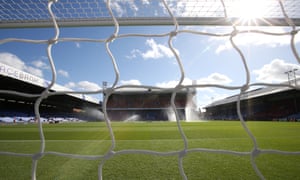 13:33
This match is very much filling the get-completely-ignored-because-another-one's-more-exciting role this afternoon, with Sky concentrating on Liverpool's game against Manchester City and devoting a healthy chunk of the build-up to an interview with Daniel Craig. "Are we going to start talking about football?" asks Roy Keane, after it's suggested that he would make a decent Bond villain.
13:15
The Palace team is so predictable that we truly did predict it. Leicester spring a associate of surprises, though the absence of Wilfred Ndidi, who was suspended for the visit to Legia Warsaw and misses today's match with a hamstring injury, was trailed over the last associate of days. Jonny Evans is seemingly unwell.
13:05
This afternoon's line-ups have been confirmed, and they look a lot like this:
Crystal Palace: Guaita, Ward, Andersen, Guehi, Mitchell, Gallagher, Milivojevic, McArthur, Ayew, Edouard, Zaha. Subs: Butland, Tomkins, Olise, Kouyate, Hughes, Schlupp, Clyne, Benteke, Kelly.
Leicester: Schmeichel, Castagne, Soyuncu, Vestergaard, Bertrand, Lookman, Tielemans, Choudhury, Barnes, Iheanacho, Vardy. Subs: Maddison, Albrighton, Ward, Perez, Amartey, Ricardo Pereira, Dewsbury-Hall, Daka, Soumare.
Referee: Anthony Taylor.
13:00
Hello world!
keep up on to your hats – the last 10 games between these teams have featured 32 goals, two red cards and a associate of penalties. Managers change and players come and go, but this fixture always tends to be a good one. With neither side experiencing from injury problems or bizarre paperwork malfunctions (such as the one that kept Kelechi Iheanacho out of Poland in midweek) they should roar into this with vim and panache and entertain us by a sunny but windy Sunday afternoon (well, it's sunny and windy outside my window; other windows are obtainable).
Here's what yesterday's Guardian reckoned the line-ups might be. Actual line-ups to follow in a matter of moments: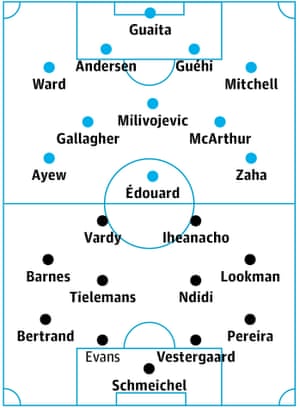 Click: See details